The Go-To Property Damage Restoration Company For Homeowners and Strata
VANCOUVER'S
WATER DAMAGE REPAIR COMPANY

Water Damage Restoration Services
Getting a water damage inspection can save you thousands of dollars. Our technicians are certified through the Institute of Inspection Cleaning and Restoration Certification (IICRC), learn why Incredible is your best choice for water damage inspection and restoration in the lower mainland.
Why Incredible Restorations
We are a team of water damage restoration professionals that extract the water, dry up your place, and re-build it back to pre-loss condition… if not better.
At Incredible Restorations, We pride ourselves on providing you with extraordinary customer service to help you and your family get your lives back to normal. Our team is certified, IICRC educated and passionate about helping our community.
Contact us to experience the best customer service and reporting in the industry. Our aim is to make you absolutely happy with the end result.
Our teams provide a full range of services from water extraction, drying, water damage repairs, mold remediation, fire damage restoration, drywall repair, hardwood floor drying and all types of property damage restoration across the entire lower mainland. Whether it's a basement flood, pipe leak, or small property damage repair, we'll work closely with you to ensure you're updated every step of the way.
If you want your water damage dried properly and your home back in pre-loss condition, Call Incredible Restorations!
Read More About Us

Online Reviews
After my parent's house flooded last weekend from the rain, I called Incredible Restorations, and they were there in less than an hour. They've been great so far extracting and drying our home. Chris and his team are very organized and great with communication. Jesse, one of the technicians have been super polite and helpful each time he's been here!
I had a bathroom sink overflow last Saturday and was able to reach Chris. He was very helpful and after asking for additional information, he suggested waiting until Monday to save me some money as the source of the overflow was already contained.On Monday, Keith was able to come over and assess the damage and provided a reasonable quote with a few options.Keith was very professional, respectful, listened, explained well and was also very flexible.I would give them 11/10 on mitigation side.I will definitely use them again if i need to, although I hope I have no more water damage issues.
Incredible Restoration a wonderful company to work with. Their claims process is dialed in so they can execute what they predict to the proper timeline, while continuning to provide excellent communicarion throughout the restoration proess. Pleasure to work with them.
Overall, I am very pleased with their service. They were very responsive and friendly. Aaron was able to easily and quickly guide me though the insurance claim process, along with many other inquires. I would definitely recommend them for their services!
Strata called Incredible Restorations after an upstairs neighbor flooded their apartment and water leaked all the way 4 floors down to my first floor unit. This extended to both my bathroom and my kitchen! Gratefully, Jamie was dispatched the very next morning. Jamie was polite, on-time and passionate about his work. Moreover, he is highly communicative- explaining the process every step of the way and never shamed me for asking too many questions. That sort of empathy is kind of amazing. I felt reassured my unit would be okay. Thanks Jamie!
Hired them because they were recommended by a friend. Needed to repair some water damage on the floors. Aaron and his team did a great job and never tried to get us to do something that wasn't necessary.
Incredible Restorations were quick and accurate in addressing my issues and provided a reasonable and simple quote compared to other restoration companies that provided me vague and complex service breakdowns.
My husband and I had an overflowing toilet in our upstairs bathroom and we called the Incredible Restoration guys right away. They were super thorough and got everything dried up in just a few days!! This was a first for me, so I asked a lot of questions and I loved how they answered without any hesitation - I highly recommend James and the entire Incredible Restorations team! Super amazing work 🙂
Nelan Tagra (.
17:56 28 May 21
My building had a multi-story flood and their team just finished drying my apartment. They did a great job communicating what they were doing and made sure to wear masks the entire time. 10/10
They're currently handling a flood in my apartment building and all the workers have been very respectful and polite.
Honestly, I didn't know there was mold in my home until my mom visited and pointed it out. I called Incredible and they got rid of it so quick. They really are pros at what they do.
Christy T.
23:50 25 Apr 21
Keith and his team were great!They showed up promptly at 9:00 am, left around 12:00 pm after cutting out the soaked drywall, insulation, carpet and pulling out the ruined laminate, and setting up fans for us.They also gave great after-care instructions for the equipment. Very happy with their work 🙂
Incredible Restorations has always been great. Unfortunately, I've experienced a couple of water losses in the not-so-distant past, the most recent one being a month ago. My strata has called them each time we experienced one and they've always been prompt, professional, and polite throughout the whole repair process.
Great company to work for the management care about their staff the company as a whole is run by great people 10/10 would recommendThey take the job seriously and the management and supervisors there are very knowledgeable and considerate of any private residences individual costing needs and how to take the most productive and cost efficient way in resolving most floodsI learned a hell of a lot with them and think they're probably the safest bet I can see for anyone in an emergency flood10/10 would work there again I just needed to take a higher paying worse job in order to pay some bills i definitely intend on shooting a resume back there
I posted a review with my google account (Morris) and my snooping has led me to my wife's gmail (since I am trying to support all the businesses I love during these pressing times with FAIR reviews).I don't understand the vendetta people go on and it sickens me that people of such 'low' caliber exist. If the unnecessary 1 star constancy is how one acts, there seems to be a lack of understanding. We act on rage and emotion, but the audacity to hide behind the screen and be petty, rather than finding the solution and settlement like adults is distasteful.If the job is truly not to promise, then 1 review is enough.Only reason why I even posted this is to let other people know what is REAL and what is a FAKE review - simply look at the constancy of review.If something was really unjust as to cause this, I would consult someone and deal with the business (especially if a job was on a higher quota). Again, all businesses have agreements and nobody's to blame but your ignorance to understanding how an industry works.From an accounting perspective: compliance, bylaw, enforcement, and legal aspects can assist you in claims. An analyst would do the backend work and an inspector would get the evidentiary needs.(Further snooping on restoration companies like circle and whatnot: the owners reply that they can't even find their file... so if you want to truly know a service, just be careful with these Shady 1 star reviews in general.If they are indeed true, than I apologize for pointing fingers and I'm sure the business would truly appreciate your feedback).PS: if you need restaurant or new eats recommendations, I will be posting my experiences on my actual account because they are TRUE.*Once this gets sorted out, I will delete this review - because it's not an actual review. (so maybe the fake reviews should do the same?)*
Stephanie T.
23:51 19 Feb 21
Since 1993, Incredible Restorations has been solving water damage and leak problems in both strata and homeowner client's properties, maintaining an impeccable reputation in the lower mainland for professionalism, quality, and customer service.

5-Star Service. We strive to make every client a raving fan, and that starts with top-notch customer service and continues with professional workmanship. But don't take our word for it, check out our online reviews on Google and Facebook.

Professional restoration of your home after water damage will maintain your property's value and avoid future issues such as mold growth and cosmetic deficiencies. As well as protecting your family's overall health and well being.

Our Property Damage Restoration Services Include:
1-year warranty on all workmanship

Equipped with the latest industry equipment

We work directly with your insurance company and we'll bill them directly

Industry certified team including a Master Restorer on staff

The highest degree of professionalism
Call the local experts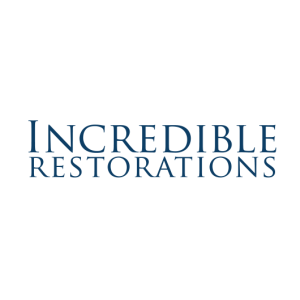 Get Your House Back In Order ASAP
Did you know? – You are able to hire the water damage restoration company of your choice. We work with all insurance companies and will bill them directly.
Promptly dealing with emergency issues such as floods and water damage may avoid more serious property damage restoration issues such as mould growth and rotting. Protect your home; your largest investment by hiring the best choice in water damage restoration.
Our experienced in-house crew can quickly mitigate, and tackle the property restoration project to get it done in the fastest most efficient way possible.
WATER DAMAGE RESPONSE TEAMS AVAILABLE IN:
INCREDIBLE RESTORATIONS Provides the finest FLOOD RESPONSE teams available in the Vancouver area.
Specializing in providing emergency water damage abatement and attendant structural restoration services to homeowners in Vancouver, business owners, strata councils, property managers, construction firms and insurance companies throughout British Columbia's Lower Mainland. Incredible aims to return our sites to a pre-loss condition in the safest and most efficient way possible.
We are at the forefront in the use of "cutting edge" restorative drying equipment and technology. We combine this expertise with quality structural repairs. All of our employees are certified (IICRC) in various aspects of the water damage restoration field. Our company policy is continuous education and skills upgrading.
The emergency services and most of the structural repairs are undertaken by "in-house" employees. This allows us a high degree of control regarding service delivery and quality. We believe 'customer service' is the key to repeat business.