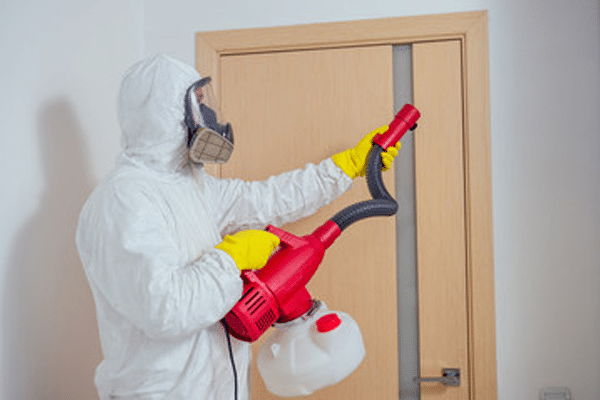 With the rapidly spreading Corona Virus named Covid-19, cleaning and applying a disinfecting solution to your facilities has never been more important.
Covid-19 is a respiratory disease that spreads through droplets spread through coughs, sneezes, and secondary exposure of uninfected people to objects exposed to infected people.
Even if you aren't in contact with an ill person, secondary exposure to Covid-19 is a possible method to become infected. 
This Corona Virus can stay on hard surfaces for up to 9 days which makes touchpoint areas a high-risk surface for secondary exposure of Covid-19. 
By effectively cleaning and applying disinfectant to your facilities, you can ensure your home is clean and healthy. 
How To Clean 
And Apply Disinfectant 
To Your Home
1. Remove soil and other surface contaminants (minor areas affected)
The emphasis on cleaning should be on high touch point areas. 
High touchpoint areas are classified as surfaces more likely to be touched by occupants. Make sure to clean these areas of soil and other surface contaminants before you begin to apply disinfectant. 
Make sure to clean a 3 – 12-inch radius around these areas to ensure you cleanse all possible areas of contact.

Clean these areas the best you can with a trigger sprayer cleanser, foam cleanser and a wiping cloth. Foam sprayers are recommended due to the slower drying time and visible application.

Although touchpoints vary by the type of facility being cleaned, common high touch point areas are: 
door knobs and locks

door push bars

door edges and jambs on the side opposite the hinges

stair and ramp hand railings

cupboard handles and drawer pulls

appliance handles

light switches

table and desktops, telephones

toilet seats and flush handles

faucet handles

soap pumps

keyboards and mice

elevator buttons

credit card keypads

vending machine buttons

equipment controls 

television remote controls

chair armrests

bedrails

Countertops
2. Applying Disinfectant
Once you've cleaned the high touch point areas, the next step is to apply disinfectant. The best way to stop the spread of Covid-19 is to apply disinfectant to high touchpoint areas after they've been cleaned. 
Apply EPA Registered disinfectants on the previously cleaned surfaces and wait for them to dry.

Common household EPA registered disinfectants are:
Clorox Commercial Solutions® Clorox® Disinfecting Spray

Clorox Disinfecting Wipes

Lysol brand Heavy-Duty Cleaner Disinfectant Concentrate

Lysol Disinfectant Max Cover Mist

Lysol brand Clean & Fresh Multi-Surface Cleaner

Purell Professional Surface Disinfectant Wipes

Sani-Prime Germicidal Spray

Clorox Multi Surface Cleaner + Bleach

Careful when using bleach on surfaces as it may have negative effects on some surfaces
3. Disinfecting Large Areas
If you need to apply disinfectant to a larger area, applying antimicrobial solutions as an aerosol is the most effective way to reduce microorganisms on walls, floors, and horizontal surfaces. Our HEPA filters also reduce airborne droplets to prevent the spread of Covid-19.
What does this mean?

Applying disinfectant for Covid-19 in larger areas is best done with spraying equipment or Ultra Low Volume Foggers. 
Fogging is a process where chemical disinfectants are applied to living spaces to create and disperse a disinfectant aerosol. 
HEPA air filters and scrubbers can also improve the environment by reducing the level of airborne particles. The removal of aerosolized particles during the cleaning process can improve the overall cleaning efficacy and reduce risk of Covid-19.  
How?
By filtering negative air, these air scrubbers can reduce the airborne particles that get dislodged by the treatment process.
How does this help me?
This helps reduce numbers of microbiological pollutants, bacteria and prevents transmission of contaminants. 
In short, foggers allow us to apply Covid-19 disinfecting solution effectively and efficiently in large areas and hard to reach places while HEPA Filters filter out any airborne microorganisms. 
If you're in need of large scale cleaning and disinfection application, please give us a call at (604) 639 0990 WE'RE HERE WHEN YOU NEED US.
CALL NOW 604.639.0990
If you're experiencing water, fire, or storm property damage, the Incredible Restorations team is here to help.
Our phone lines are open 24/7 365 days of the year and our team is passionate about getting your life back to normal.
We understand how stressful property damage is and we're dedicated to providing you with excellent customer service through this tough time.